I've already shared my shame with the internet when I shared the state of our bathtub and the state of my dresser.  Ooof.  So what's a little more online humiliation, right?
This is my craft room… studio… office… whatever you want to call it, and yes it's looked that pretty much since we moved in.  Sure it's been slightly more tidy off and on, but it's always returned to this state.  If you're wondering where my computer is, it's a laptop I keep parked in the living because this.  Awesome, huh?
The biggest culprit is probably my jewelry supplies.
I got one of these bad boys for Christmas last year and it's wonderful and stack-able, but a little pricey for as many as I need.  I picked up a couple more (1 tiny, 1 small–the "small" is what's shown here) for smaller beads since it's sooo nice to be able see them all at a glance.  The fancy case isn't necessary for all my stuff–findings, wire, tools–so I picked up this guy last time I was at the hardware store.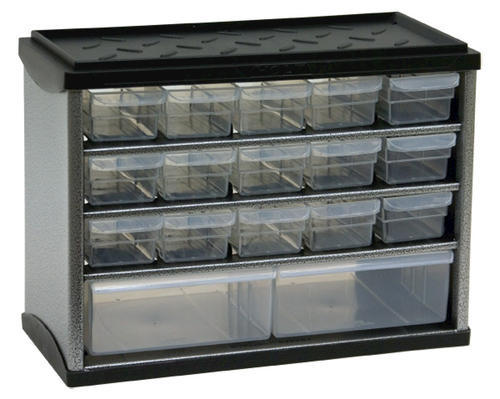 Love the drawer sizes and adjustable dividers… not lovin' the uber industrial look.  I already had some white spray paint on hand for my radiators, so I hit it with a few coats of that.
If you think this and the container units are the extent of my jewelry supplies you are very, very wrong.  I have 4 full cubbies of my Expedit unit crammed with beads, wire, and tools and could easily use another 10 of the container units, but will probably work in more of these drawer units because they are WAY cheaper.
Still a long ways to go, but better right?  The closet is still filled with boxes that I need to go through but I've also cleared out tons of stuff and rediscovered my floor so I'm calling this a success.  The room is going to be a long-term project for sure, but it's at least no longer completely overwhelming.